Injected Technology is available for most of the current Daz humans and some other figures. When loading a character, morph slots are reserved for that human or figure. Some morph slots do not contain any morph instructions for changing the shape.
If a particular slider is needed for a human or figure, morph pack(s) can be purchased from our Daz3d.com/shop. For user(s) who have purchased a morph pack and the morph slots are grayed out or not available, submit a Technical Support ticket.
Changing the menu option to show empty morph slots will show you additional morph slots to select from. However, these slots have no additional effect on the human/figure. Follow the instructions below to change the menu option to show empty morph slots:
Step 1: Above the "Parameters" tab, left-click your mouse on the triangle button at top-right of the palette, or as shown below.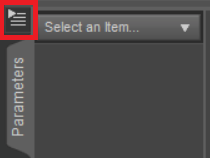 Step 2: Select "Preferences," from the dropdown menu.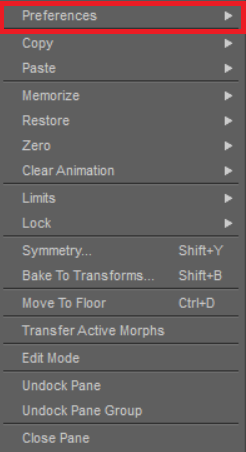 Step 3: Select "Show Hidden Properties." After selecting this option, all the "Morph Sliders" will be available for that character/figure.