The first thing to verify, is the tool being used allows items to be selected within the Viewport. Tools such as Spot render, will not select items and the Translate and Rotate tool will not show a manipulation gadget on some parts (For example, users are not able to translate Victoria's forearm away from her body.).

Amongst users, a common tool that is used is the "Surface Selection" tool, which is normally over the viewport. If this tool is not an option, select "Tools" from the top menu toolbar and then select "Surface Selection" from the drop down menu. Hovering over an object within the Viewport, the area of that zone will highlight.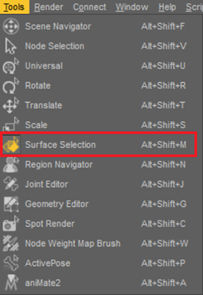 The "Scene" pane allows users to select one or multiple parts of the figure/prop/environment. This is useful when needing to manipulate certain parts and not the full scene. In addition, most normal hotkeys that work within Windows, work the same way within the "Scene" Pane. For example, selecting Ctrl + C on the keyboard will copy the pose position of that body part on the figure. Then by selecting another body part and selecting Ctrl + V, that will paste that pose position to the body part.

To customize the hotkeys within Daz Studio, select F3 on the keyboard. You can also select "Window" from the top menu toolbar. From the first drop down menu select "Workspace," and then select "Customize" from the second drop down menu. Visit our YouTube tutorial on other hotkey options that are available within Daz Studio.

If this isn't the problem, there could be an issue with the video card or driver. Select "Help" from the top menu toolbar. From the first drop down menu, select "Troubleshooting," and then select "About your video card" from the second drop down menu. If the OpenGL provider lists as Microsoft, then updating to the current driver from the manufacturer of the video card may be all that's needed. Unfortunately some cards simply won't do the job due to limited OpenGL support and then you will have to make do with selecting items in the "Scene" pane and adjusting them in the "Parameters" pane.