Below discuss how to select multiple surfaces within the "Surfaces" pane. In addition, we will discuss other panes within Daz Studio and how those options assist with selecting multiple parts.
The hotkeys on a Windows operating system will normally work the same way within the "Surfaces" pane, as will using Command on a Mac. For example, by selecting ctrl on the keyboard and then selecting the preferred surface items, those selected items will then be highlighted. The below image provides the results of this process: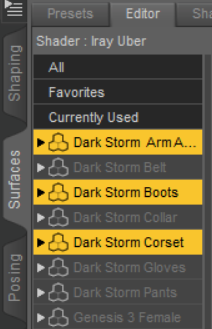 User(s) can then modify all of the selected surfaces at once. For this example, we have updated the Base Color and Texture, and this has updated all of those selected items.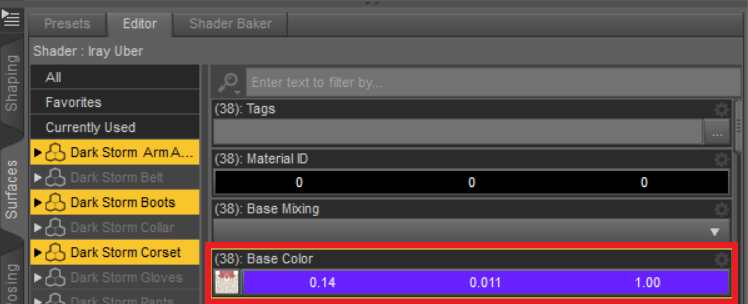 The "Scene" pane also allows users to select one or multiple parts of the figure/prop/environment. This is useful when needing to manipulate certain parts and not the full scene. In addition, most normal hotkeys that work within Windows, work the same way within the "Scene" Pane. For example, selecting Ctrl + C on the keyboard will copy the pose position of that body part on the figure. Then by selecting another body part and selecting Ctrl + V, that will paste that pose position to the body part.
To customize the hotkeys within Daz Studio, select F3 on the keyboard. You can also select "Window" from the top menu toolbar. From the first drop down menu select "Workspace," and then select "Customize" from the second drop down menu. Visit our YouTube tutorial on other hotkey options that are available within Daz Studio.