First Option: Select one of the following under "External Links" to be directed to helpful information:
"Documentation" - will direct you to the Daz Documentation Center where you can locate resources to help you use DAZ Software products.
"Forums" - will direct you to Daz 3d Forums for official news, announcements, updates, and peer-to-peer discussions.
"Support" - will direct you to the "Help Center" to submit a ticket,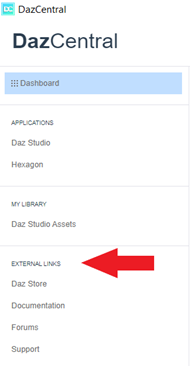 Second Option: Within each individual Daz 3D App (Daz Studio, Hexagon, Carrara and Bryce), you can locate an individual resource page that links to app-specific forums, FAQs, Tutorials, and the Daz Documentation Center.