Daz Central is the easiest way to download Daz content and applications to your computer. We recommend installing Daz Central as opposed to Daz Install Manager(DIM). To continue the installation process for Daz Central, refer to the article, "How to install Daz Central?"
Daz Install Manager (DIM) is for advanced users. To continue with the installation process for DIM, follow the steps below.
Step 1: Refer to the webpage: https://www.daz3d.com/install-manager-info/, and select the blue button, "Free Download."
Step 2: Within the registration page, enter in your first and last name, current email address, and a password. Select the checkbox within the "Captcha" (I'm not a robot). Select "Download Now." This will begin the installation process automatically.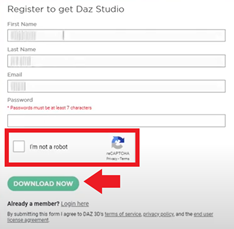 Step 3: At the bottom of the webpage, an "Installer" popup will appear above the Windows taskbar. Once the installation has been completed, select the "installer" popup. Another popup window will appear with the title "Setup."

Step 4: Once the application is open, log in using your Daz account and Password. This pop-up gives you options for working online or offline, as well as selecting and logging in with another account.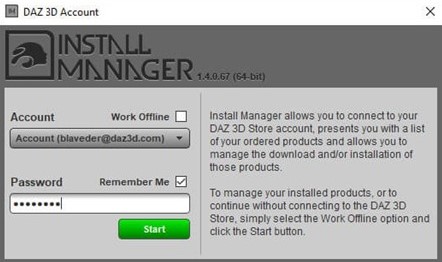 **Additional Details:
DIM provides three (3) tabs to view your products, install existing files and products that have been installed. Below provides details on what each tab offers.
Ready to Download Tab - Daz Products/3D Assets will appear in this tab after purchase. Select the items that you wish to download. Those items will automatically move to the 'Install Tab' and start the installation process. This function is available for the advanced user who would like to use packages, locations, install filters and more.
Ready to Install Tab - The Ready to Install Tab houses existing files that have not yet been installed, as well as those that did not auto-install. This Tab allows you to install items manually, if you wish to do so. You can also select packages to install for more advanced installation, and view files inside said packages.
Installed Tab - Within this tab you will see all of your products for your account that are installed and ready to go. Here you can Uninstall them as well.