For Daz+ members, coupon codes are only available within your Daz 3D account. The coupon codes are subject to change on a monthly basis.
Follow the instructions listed below on how to review the coupon(s) within your Daz 3d account and how to apply the coupon to a finalized purchase.
Step 1: Within your Daz 3D account, select the "Daz+" icon from the top menu bar.

Step 2: Copy the coupon code. This will be used later within the next step.

Step 3: Step 1: Select the box that states: "Coupon Code" as shown below. Coupon codes are case sensitive; therefore, it needs to be typed in exactly how it is received.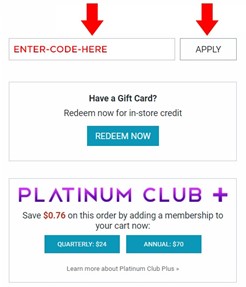 Step 4: Select the "Proceed to Checkout" located at the bottom of the page. This will take you to the "Checkout" screen.
Submit a Technical Support ticket if the following takes place:

You have confirmed the Coupon offer is valid for the purchase (per terms/conditions/exclusions)

It has been entered correctly, and you are still receiving an error message.
Within the support ticket include the Coupon Code, the list of items you are purchasing with the coupon and any error message received.
**Additional details:
You may only use ONE Coupon Code at a time. Each Coupon Code may include terms/conditions and exclusions. Read through each coupon offer to confirm what those exclusions and terms/conditions may be.
The "Discount" field will reflect the change once the Coupon Code has been applied to the purchase. The coupons will not fully apply if there are free items in your cart. Please only use the coupons where you are not receiving a free item.