Mirror Symmetry is completed once a figure has been placed within Daz Studio. Follow the steps below on how to complete Mirror Symmetry.
Step 1: Select the figure within the "Scene" pane. For this example, we have selected the Genesis 2 Surfer Guy.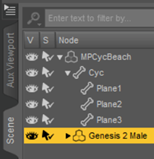 Step 2: From the "Parameters" or "Poses" pane, left click the hamburger menu found in the upper right corner of the pane. From the drop down list, select "Symmetry." A new window will appear.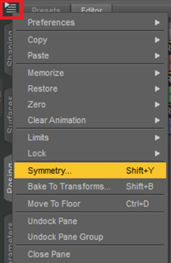 Step 3: Within the Symmetry Dialogue Menu, choose the following settings: