When you create a scene when using NVIDIA IRAY, there is a default Environment Map that loads. If you want to add your own custom lights, you need to change the default lighting so your custom lights show up. The following steps are for when you want to just see the lights you add, and not see the default lighting from the Environment Map and Auto Headlamp.
Step 1: Select "Render Settings" from the top menu toolbar.
Step 2: Select the tab, "Editor." The "Environment" option should be available within the menu list on the right hand side.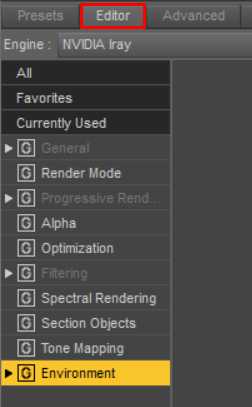 **IF "Environment" is not available. Select "Create" from the top menu toolbar and select "New Environment Options Node" from the drop down list. The "Environment" options will now be available to select from within the "Editor" tab.

Step 3: Select the picture under "Environment Map." A drop down menu will appear, select "None."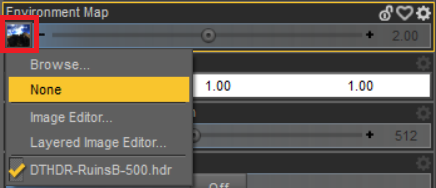 Another option: Select the "2.00" within the "Environment Map" box. This will allow you to adjust the intensity value within this field. To switch this value off, switch it to "0." This will turn most of the lighting off.

Step 4: Within the "Editor" tab, select "General."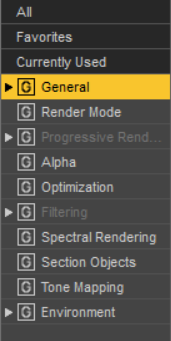 Step 5: Within the "Auto Headlamp" section, select "Never" from the drop down menu. This should completely remove the lighting from the scene.