Below provides the difference between a Material preset and a Shader preset and how to apply a Shader to an object. In addition, steps on how to locate other tools to select surfaces within your scene.
Shader describes the properties that the render engine needs to make an object look a certain way once the image has been rendered. For example; how reflective the object is, or does the object look concrete or brick wall. Shaders can also be combined with an existing .jpg texture or used alone. In addition, shaders can be added to any object within the scene.
Material presets describes the properties for that specific object and only changes the various material zones for that object. These presets are normally not available for other objects within the scene. Usually generic shaders are made up of tileable textures that repeat, once placed together to make a larger pattern, the sems will not show. For most material presets, the pattern is cut out making the texture untiable and can only be used on that specific object. Generally, materials can only be applied to the object the material was made for.
How to apply a shader to an object:
Shaders are normally applied from the "Surface" pane. If this pane is not available within Daz Studio, select "Windows" from the top menu toolbar. From the first drop down menu select "Panes (Tab)," and then select "Surfaces" from the second drop down menu.
The below example/steps, will present the Shadow Thief Outfit as the selected object to apply the shader to.
Step 1: Within the "Scene" pane, select the object that you wish to apply the shader to. Within the below image, we have selected the B25STTop to apply the shader to.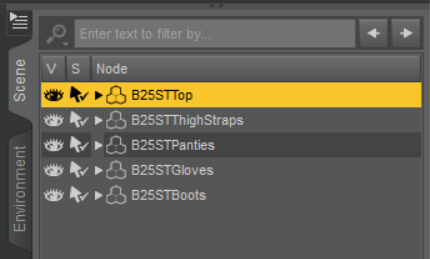 Step 2: Within the "Surface" pane, under the "Editor" tab select the same item here that was selected within the "Scene" pane. Once the same item has been highlighted, select the "Presets" tab. From there, select the triangle next to "Shader." The image below provides a list of shader options to select from. By double clicking on any shader thumbnails the surface of that selected object will then change.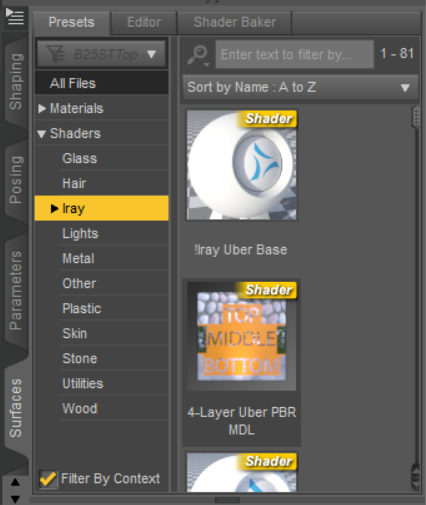 **Additional Details:
Shader(s) can only be applied if the preset shader is an option for that selected object. For this example, the Shadow Thief Outfit has been presented within the scene and we have only selected the B25STTop. By selecting a different option, the B25STThighStraps, the shader preset option disappears as this is not available for this selected object. The image below shows an example.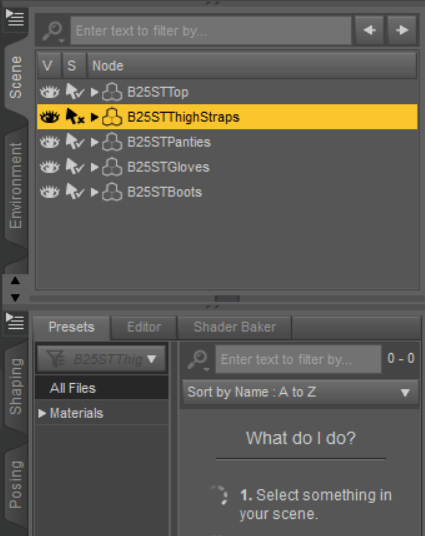 Other Daz Studio Tools:
Another tool that can be used to select surfaces is the "Surface Selection" tool, which is normally within the toolbar over the viewport. If this tool is not an option, select "Tools" from the top menu toolbar and then select"Surface Selection" from the drop down menu. Hovering over an object within the Viewport, the area of that zone will highlight.