Coupons Codes are available for first time users and can be located within your personal email. You can also locate Coupon Codes throughout the daz3d.com/shop on promotional pages, the store page and more. Be on the lookout for upcoming Coupon Codes!
Please follow the steps below to apply the Coupon Code to your order:
Step 1: At checkout, input the coupon code in the "Enter a Coupon Code."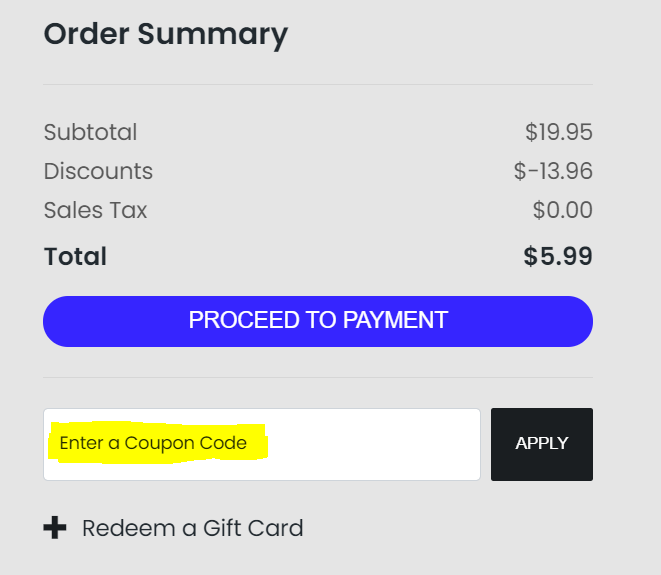 **Additional Details: Coupon Codes are separate from Gift Cards; therefore, make sure you have selected the correct text box to enter the Coupon Code.
Step 2: Click "APPLY."


Step 3: In the "Checkout" screen, continue verifying the billing address. Select the payment method and then place the order.
Submit a Technical Support ticket if the following takes place:
You have confirmed the coupon offer is valid for the purchase (per terms/conditions/exclusions).

The Coupon Code has been entered correctly, and you are still receiving an error message.
Within the support ticket include the Coupon Code, the list of items you are purchasing with the coupon and any error message received.
**Additional Details:
You may only use ONE Coupon Code at a time. Each Coupon Code may include terms/conditions and exclusions. Read through each coupon offer to confirm what those exclusions and terms/conditions may be. The "Discount" field will reflect the change once the Coupon Code has been applied to the purchase.
Please note: Coupon expiration times are based on the Mountain Time Zone.